HCQ 2nd Annual Dinner in Québec City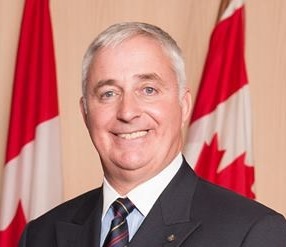 Join the members and friends of the Harvard Club of Québec for its Second Annual Dinner in Québec City in the elegant Officers' Mess of the Royal 22nd Regiment
situated in the heart of the Citadelle of Québec.
Our Guest of Honour will be Brigadier-General J.R. Giguère, OMM, MSM, CD (ret'd), Commandant of the Canadian Forces College from 2013 to 2015,
deputy commander for the last combat rotation of Canadian troops in Afghanistan and previously a member and a commander in the Royal 22nd Regiment.
General Giguère will speak about the role of the Forces in the world and the rich history of the Mess.
◊ Friday, September 15th, 2017
◊ Cocktail 6pm. Dinner 6:30pm.
◊ Business attire.
◊ Guests and friends of the Club are welcome.
◊ Price per person includes meal, tax and service. Alcool not included.
◊ Places limited. Registration must be made by Friday September 8, 2017.
◊ Free parking available betwen the Citadelle walls.
◊ Rooms at Hotel 71 pre-booked for attendees until August 31 at the special rate of $379 (refer to group name "Harvard Club").
◊ Info: Ben Poirier (bpoirier@e-3.ca)
About the Citadelle and the Officers' Mess:
The Citadelle of Québec is the largest British fortress in North America. It is an integral part of the Québec fortifications and is located on Cape Diamond, the city's
highest point. The citadel was recognized as a National Historic Site of Canada in 1980 and is part of the Historic District of Old Québec, which was placed on
UNESCO's World Heritage List in 1985. The Citadelle of Québec has been the Royal 22e Régiment's home base since 1920.
The Officers' Mess of the Royal 22nd Regiment is the oldest mess of the Canadian Forces still in service, in continuous operation since its construction in 1831.
In addition to the R22R, the Mess also served several British and Canadian Forces units.
(sources: lacitadelle.qc.ca, messdesofficiers.r22er.com/)
>> REGISTER ON EVENTBRITE <<
* * * * *
Joignez-vous aux membres et amis du Club Harvard du Québec pour le second souper annuel du Club à Québec dans l'élégant Mess des Officiers du Royal 22e
Régiment situé au coeur de la Citadelle de Québec.
Pour cette occasion, l'invité d'honneur sera le Brigadier-général J.R. Giguère, OMM, MSM, CD (ret.), Commandant du Collège des Forces canadiennes de 2013 à
2015, commandant adjoint de la dernière rotation de combat des Forces en Afghanistan, et auparavant membre et commandant au sein du Royal 22e Régiment.
Le Général Giguère nous entretiendra notamment du rôle des Forces dans le monde et de la riche histoire du Mess.
◊ Vendredi15 septembre 2017
◊ Réception à 18h. Souper à partir de 18h30.
◊ Tenue de ville.
◊ Les invités des membres et amis du Club sont les bienvenus.
◊ Le prix par personne inclut le repas, taxes et service. Alcool en sus.
◊ Places limitées. Les inscriptions doivent être faites avant le vendredi 8 septembre 2017.
◊ Parking gratuit entre les murs de la Citadelle.
◊ Chambres à l'Hôtel 71 pré-réservées pour les participants jusqu'au 31 août au tarif spécial de 379$ (mentionner le groupe "Harvard Club")
◊ Renseignements: Ben Poirier (bpoirier@e-3.ca)
À propos de la Citadelle et du Mess des Officiers
La Citadelle de Québec est la plus importante forteresse britannique en Amérique du Nord. Partie intégrante des fortifications de Québec, elle se situe sur le Cap Diamant,
le point naturel le plus haut de Québec. Lieu historique national du Canada depuis 1980, la Citadelle est située à l'intérieur de l'arrondissement historique du
Vieux-Québec, inscrit au patrimoine mondial de l'UNESCO depuis 1985. La Citadelle de Québec est la maison mère du Royal 22e Régiment depuis 1920. Avec la
présence du Royal 22e Régiment, la Citadelle est l'unique forteresse historique encore active militairement en Amérique du Nord.
Le mess des officiers du Royal 22e Régiment est le plus ancien mess des Forces canadiennes encore en service, en opération continue depuis sa construction en 1831.
Outre le Royal 22e Régiment, le Mess a également servi à plusieurs unités des armées britanniques et canadiennes.
(sources: lacitadelle.qc.ca, messdesofficiers.r22er.com/)
>> INSCRIPTIONS SUR EVENTBRITE <<