Please join us for a Virtual Friday talk:
A Conversation with Prof. Steve Levitsky:
The State of American Democracy
WHEN: Friday, February 5 from 4:00 to 5:15pm
WHERE: VIRTUAL EVENT - by Zoom
RSVP: Sign up by sending an email and we will send you the Zoom details the day of the event.
COST: This is a FREE event for Harvard Club of Toronto members.
Prof. Steven Levitsky, Professor of Government at Harvard University, wrote (along with his co-author Daniel Ziblatt) the bestselling book How Democracies Die that The Economist referred to as "most important book of the Trump era". He will speak for 20-25 minutes followed by Q&A.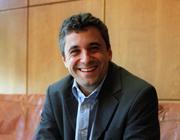 Steven Levitsky is Professor of Government at Harvard University. His research interests include political parties, authoritarianism and democratization, and weak and informal institutions, with a focus on Latin America. He is author of Transforming Labor-Based Parties in Latin America: Argentine Peronism in Comparative Perspective (2003), co-author (with Lucan Way) of Competitive Authoritarianism: Hybrid Regimes after the Cold War (2010), and co-editor of Argentine Democracy: The Politics of Institutional Weakness (2005); Informal Institutions and Democracy: Lessons from Latin America (2006); and The Resurgence of the Left in Latin America (2011). He is currently engaged in research on the durability of revolutionary regimes, the relationship between populism and competitive authoritarianism, problems of party-building in contemporary Latin America, and party collapse and its consequences for democracy in Peru.